Top Five Coronavirus Business Tips
By Tatyana Parham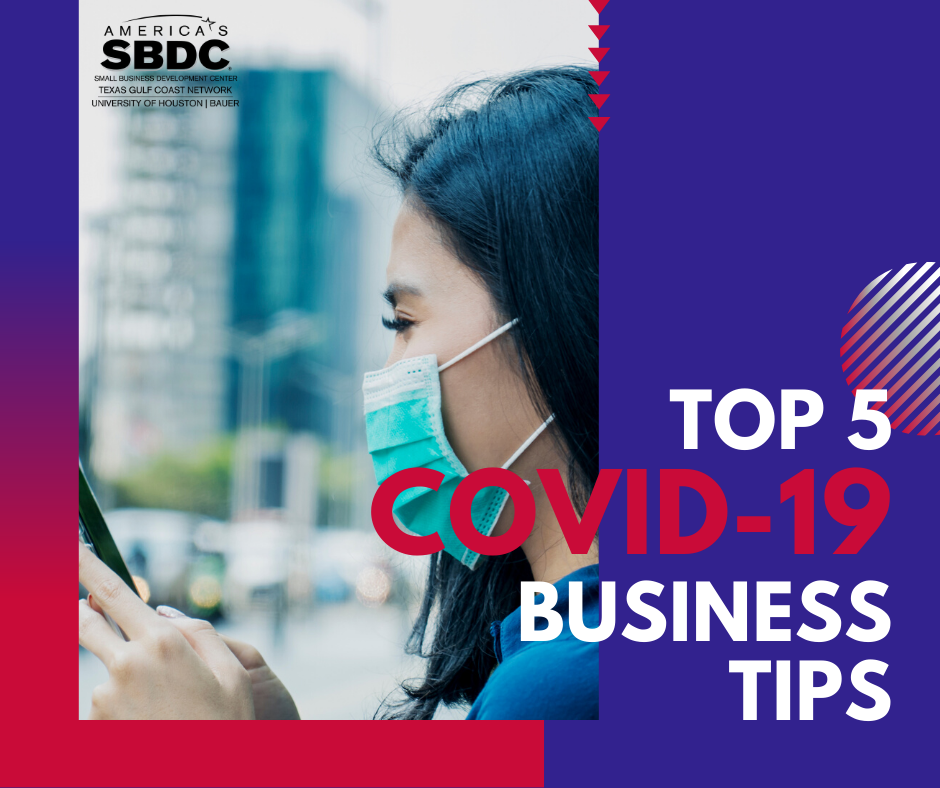 As small business owners are now facing unprecedented challenges as a result of impacts of the coronavirus pandemic (COVID-19), many are searching for ways to sustainably manage their business. While implementing provisions to ensure the health and safety of your employees and customers, you should also consider how to sustain healthy business operations to thrive in a time of uncertainty.
In efforts to help you navigate impacts of COVID-19 with clarity and intention, here are top five cornavirus business tips:
Embrace Change
This current situation, while turbulent, can be an opportunity to renovate your business plan and pivot into new capabilities, goals, and objectives, based on your business's strengths. If you don't know where to start, lean into your company's core values and mission statement, and use it as a catalyst for creating value in your community. As consumers' priorities change, be open to adjusting your brand's value proposition and service offerings.
Consider the steps your company will take in the best-case, expected, and worst-case scenarios. By eliminating the element of surprise, you'll be better prepared for whatever unfolds.
Additionally, many companies have transitioned to a remote work environment with an emphasis on virtual storefronts and client services. If your business is adapting to operating digitally, make sure that your employees have the necessary technology and skillset to maintain productivity from home.
Prioritize Your Customers' Needs
Consumer behavior is rapidly changing, as many customers now require low-risk experiences and practical purchases. This is an amazing opportunity to strengthen customer relationships by actively engaging and listening to your target consumer's shifting needs, preferences, and experiences. How can your business initiatives reflect these changes, and support customer retention and loyalty throughout these challenging times?
Take advantage of your team's ability to provide consistent and direct customer service, which differentiates your business from larger corporations. Become a reliable resource for industry-specific information for your clients, and offer a range of incentives and support, such as discounts, virtual sessions, or an e-newsletter.
Increase Internal and External Communication Efforts
Your employees are a vital asset to the sustainability of your business. Employees may be experiencing elevated levels of physical and psychological stress at this time, which can often impact productivity. It is highly important to frequently communicate with your team, so you may understand their individual needs, and offer any additional support while they adopt to changes in their personal and professional lives.
Expanding your support network can be a helpful tool for establishing your brand's reputation and connecting with the community. Seek other entrepreneurs or small business owners within your industry, and share stories, discussions, and useful information through social networking platforms like Facebook and LinkedIn.
Save Your Money
By reducing your cash burn rate, which is the pace at which you utilize your cash reserves, you safeguard your balance sheet and provide your business with extra cash in case of emergencies. Since we are uncertain of when, or if, everything will return to normal, it is ideal to protect your business from any financial setbacks as a result of the pandemic.
You can save more money now and extend your capacity to remain financially afloat by renegotiating current liabilities, expanding your line of products and services to generate more income, and rethinking nonessential expenses.
Utilize Available COVID-19 Resources
Due to federal and state economic recovery efforts, including CARES Act 2020, Texas small business owners can now apply for SBA Economic Injury Disaster Loans (EIDL), the Paycheck Protection Plan (PPP), Mainstreet Lending Program (MSLP), and a variety of COVID-19 related relief grants.
Additionally, the UH SBDC network is offering virtual advising with COVID-19 Business Specialists and an extensive library of free webinars.
Click here for UH SBDC's comprehensive list of resources that support small businesses impacted by COVID-19.