Explore! Imagine! Think! Create! A new family destination provides just the place for kids to do all that and more in a safe, clean, interactive indoor environment. And while the kids play and learn, their parents can watch from a comfy snack bar area that's outfitted with TVs and WiFi. Called A Bunch of Fun…it's a one-stop edutainment center!
The center is Tracy Dargan's brainchild. When her own children were younger, she loved to celebrate their lives with big birthday parties, but had a difficult time finding a safe place where the children could play without constant parental hovering, or one that offered creative play and activities. It seemed the kind of place Tracy was looking for existed only in her imagination.
Years later, after working as a mechanical engineer, Tracy decided to pursue a law degree. There she connected with fellow student and friend Patrice Carrington, who later became her law partner. But after returning to work part-time as an engineer, Tracy went through a corporate downsizing, and she and Patrice soon began brainstorming about Tracy's idea of a party place. Before long, they had developed a model, design and layout for just the kind of place for kids Tracy had long imagined.
But Tracy ran into a slight detour. When she spoke to lenders about financing the project, she was constantly turned away. Finally, one of the lenders directed her to LeeVera Smith, Senior Business and Finance Consultant at the University of Houston Small Business Development Center. LeeVera reworked the business plan, editing and reorganizing it, revising the forecast and putting a proposal together to resubmit to the bank. LeeVera also introduced Tracy to Mary Nemmers, the UH SBDC Research Librarian, who helped with market, competitive and demographic research to include in the business plan.
Tracy said, "Working with LeeVera and the SBDC was a great experience. I was surprised and pleased with the hands-on and detailed assistance provided not only by LeeVera but also by Mary, who spent hours helping as if it was her new venture! The final proposal was instrumental in successfully obtaining financing to launch A Bunch of Fun Play Center." Tracy and Patrice are looking into adding art, reading fun and related special classes to the mix.
Find out more about this one-of-a-kind edutainment concept for kids -- and options for parents too – at http://www.haveabunchoffun.com. Or stop by the location at 17253 FM 529 in northwest Houston and take a tour. But be advised, if you bring your kids, be prepared to stay a while! And, "Don't forget your socks!"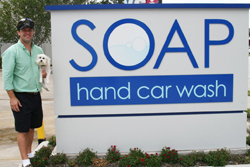 Ryan Alcon comes from a family of entrepreneurs, so it's no surprise that entrepreneurship is "in his blood. " He didn't follow in the family footsteps right from the start, however; first he worked as a pilot for a major oil company. But he soon began looking for an opportunity to see his drive, energy and passion for excellence reflected in his own business venture.
Ryan had long been a sports car enthusiast and attended gatherings whenever he could. At one event, he met another sports car aficionado who had his own classic hand car wash. Ryan was intrigued by the concept. As someone who took great pride in pampering his own car, Ryan knew there were others who were looking for specialized care for their prized possessions. He asked his new friend to mentor him on the business and the operations. Soon Ryan was ready to take his first step into entrepreneurship.
Ryan began working with a realtor to find a good location to build his hand car wash. At the same time, he realized that he would need funding for the project and very quickly discovered that lenders required not only a strong business plan but also a well thought out and realistic financial forecast. That's when he contacted the University of Houston Small Business Development Center. He was connected with Senior Business Consultant LeeVera Smith, who reviewed his draft funding proposal.
Ryan says, "With LeeVera's review and recommendations, I strengthened the overall plan, adding more in-depth market research and location analysis, including traffic count, identification and evaluation of the local competition, and a full demographic study of the targeted area. With her help, I was able to present a great plan and forecast. The result? The bank quickly approved and funded my loan."
SOAP Hand Car Wash opened this winter at the corner of Richmond Avenue and Timmons Lane in Houston. Patrons can either drop off their cars or wait in the comfortable lounge. Waiting isn't a problem when there's free coffee to enjoy, HD flatscreens for news and entertainment, and free WiFi. There's even a special play area for the kids. But the best part is SOAP's extraordinary attention to quality car care. SOAP's "Three Bucket System" prevents unsightly swirls and scratches in a car's paint, plus the technique uses far less water than the average do-it-yourselfer, meaning it's good for the environment.
Check out SOAP's facility and all the services they offer -- from the Express Wash to the Supreme Detail -- at www.soaphand.com. Be sure to view their photo gallery of some amazing before and after pictures. You can also become a fan on Facebook or follow them on Twitter to get great deals. And, when you bring your car, don't forget to bring along some dog treats for Maddie, SOAP's own special concierge!

Spotlight on SBDC Client: Dinji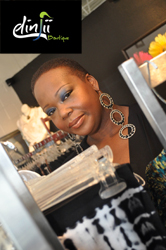 i Boutique….A boutique for every woman!
Shaundra Webb was good at numbers. But despite her background in banking and finance she had a secret dream – to open a women's boutique. She began taking classes in fashion merchandising at Houston Community College and discovered that she truly loved it. She soon quit her day job as an accountant to pursue her degree full-time. She was such a good student that she was one of 100 students selected for a scholarship to study fashion journalism in Dublin, Ireland.
With her overseas studies completed, Shaundra returned to the U.S. and a new job, but was met with a deepening recession and company downsizing. She soon found herself at one of life's crossroads: Should she seek another position or go forward with her dream?
To Shaundra, the choice was obvious -- open a boutique. But although she knew fashion, she didn't know enough about the business start-up process. That's when she contacted the University of Houston Small Business Development Center. She began working with Senior Business Consultant Lynn Billington for a review of her business plan, financial projections and funding options.
Shaundra says Lynn really delved into her business model. "Lynn reviewed the plan, asked questions on my marketing strategy, and explained the lending environment and bank requirements. Her advice on banks was great! But Lynn also provided sample business plans, market research and key ratios for a financial analysis of a boutique store. The information was good for developing my projections and for benchmarking."
Dinjii, meaning "to live loudly," opened this past summer. This classic yet modern and affordable boutique offers women a full range of clothing sizes from lines not typically found in Houston. The boutique also offers accessories and features services such as fashion consulting, styling for photo shoots and fashion show production.
Shaundra has proven to be a marketing machine! Besides her ongoing monthly special events and her biweekly emails, she's on Facebook and Twitter and has a blog. She's hosted a fashion event with Make-a-Wish Foundation. And, on Saturday, October 30th, from 1-7 p.m., Dinjii Boutique will host a fall shopping extravaganza with free makeovers, gift bags, raffles, and specially priced new fall fashion styles.
For more information and directions to Dinjii, visit Shaundra's website. To stay up to date on events and the arrival of new fashions, check things out on Facebook and follow Dinjii on Twitter.

Spotlight on SBDC Client: J&P Technologies
2010 SBA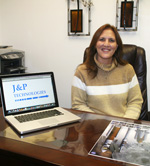 Small Business Person of the Year
Things have changed since Jennifer Lewis started her business back in 1997. She was an individual consultant when she won her first contract with Science Applications International Corporation (SAIC). Now, her staff at J&P Technologies consists of 29 full-time, highly trained professionals who provide engineering support services for the aerospace industry. SAIC remains a loyal customer, but her customer list also includes other NASA prime contractors such as Lockheed Martin, university research groups, and development laboratories.
It was Jennifer's extensive background and expertise in software engineering, system architecture, development and integration that enabled her to build on her initial success. She also hired the right people and took advantage of the government's women-owned and small disadvantaged business certification programs to give her a competitive edge in the contracting arena.
In 2006, however, when J&P Technologies teamed with SAIC and won a major NASA contract to support the Space Shuttle and Constellation programs, Jennifer realized that she would need additional capital in order to perform on the contract and continue to grow. "I turned to the Small Business Development Center at the University of Houston to help me in the process." Working with Senior Business Finance Consultant Carmen Strong, Jennifer was successful in obtaining a SBA loan, which she quickly paid off.
Jennifer also realized that she needed help with the proposals she was submitting. She found Consultant Bob Hall at the University's Procurement Technical Assistance Center, a specialty program that assists businesses with government contracts. Bob helped her with calculating her indirect cost rates, a key component of any bid, and was always available to review Jennifer's proposals.
In January 2009, when the opportunity arose for J&P to team with Lockheed Martin on another big NASA contract, Bob again assisted her with the proposal and her bid rates, and Carmen helped her obtain a line of credit for contract start-up costs. J&P won the contract, and by the summer, Jennifer had already repaid her second loan. The company remains debt-free today.
With all of these accomplishments under her belt, it's easy to see why Jennifer was named the 2010 Small Business Person of the Year by the Houston District Office of the SBA. Jennifer says her staff is what keeps her going. When she started her business, she had no one to worry about but herself. Now, she works hard to keep business coming in and overhead low so that she can provide her employees with a good livelihood, including an employee benefits package that would rival that of any big corporation.
For more on Jennifer's company's capabilities and contracts, visit www.jandptech.com.
Spotlight on SBDC Client: HandS On EyeCare
Enhancing Your View of the World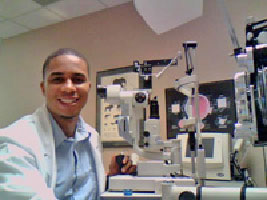 Did you know that 80% of the information we take in each day is through our eyesight? One man who's in the know about what many consider to be the most important of our five senses, our sense of sight, is Dr. Spencer Obie. In fact, it was a childhood fascination with eyes and vision that eventually led Dr. Obie to a Doctor of Optometry degree.
With his degree in hand, Dr. Obie very quickly obtained contracts to provide vision care services to nursing homes in the Houston area as well as in Alief, Livingston and Midland-Odessa. But as a native Houstonian he wanted to set up a practice in his own hometown, a practice based on his unique and personalized vision care model.
Dr. Obie had a "vision" to provide an array of eye health care services including concierge contact lens services, dry eye care, a boutique-style optical store offering the latest styles in fashion eyewear and accessories, surgical co-management to help with difficult eye surgery decisions, and orthokeratology, a method of correcting the vision by reshaping the cornea without surgery.
Dr. Obie soon discovered the perfect opportunity to set up his own eye care business: an existing practice that was available for purchase. But he realized that he would need help with the process and came to the University of Houston Small Business Development Center where he met with Senior Business Consultant Carmen Strong. Carmen worked closely with Dr. Obie to develop his business plan as well as his financial projections. She helped him understand value, pricing and the purchase process, and also connected him to possible lenders to review his loan proposal. Thanks to Carmen and the SBDC, Dr. Obie was able to obtain the financing he needed to purchase the practice.
Dr. Obie says, "Carmen was invaluable in helping me understand business planning and developing pro formas. Her insight into buying a business was most helpful. And, her connections and introductions to lenders were key in getting the funding. I could not have done it without her assistance."
Dr. Obie's practice, HandS On EyeCare, also specializes in Performance Vision for sports and academics - an "oculo-centric approach to optimizing your game." To learn more about Dr. Obie's comprehensive and personalized vision and eye care services, call him at 713.688.5777 or visit him online at www.handsoneyecare.com. When you go to his website look for the link to Fun Eye Websites to learn more of those fascinating eye facts that first stirred Dr. Obie's passion for the eye care business!
Spotlight on SBDC Instructor: Chris Tripoli, A'La Carte Foodservice Consulting Group

Even in a sluggish economy, the number of people eager to start a restaurant seems constant, even when that may not be a good idea.
That's the observation of Chris Tripoli, a well-known Houston restaurant consultant who has also been a frequent instructor on restaurant management at the University of Houston Small Business Development Center.
With over 35 years of service in the hospitality industry as a designer, developer, owner and operator, Chris knows what he's talking about. "For every restaurant that fails there are still one or two people interested in opening one," he says.
Chris started out in Phoenix, Arizona where he graduated from college with a degree in Food Service Management. When he moved to Houston, his career got off to a good start when he assisted in the rapid expansion of a casual family restaurant chain. In 1981, Chris founded his first restaurant company and expanded it into a small chain. From there, he developed several additional award winning restaurants and provided assistance to many airport and retail center developers. Now, as the president of A'La Carte Foodservice Consulting Group, Chris consults on concept development, operations, and growth related matters with both franchisors and franchisees in a variety of chains, as well as with independent operators.
Chris also finds time to write articles for several trade publications including "Food Service News," "My Table" magazine and "Restaurant Start-up and Growth." He's a popular speaker, not just at the SBDC, but at Houston's Art Institute and many other hospitality meetings, seminars and industry workshops. He remains active in the Foodservice Consultant Society International, National Restaurant Association, and the Texas, Florida, and Louisiana Restaurant Associations.
One of Chris's goals is to expose those who've always dreamed of a restaurant of their own to the realities of the business. "There are middle managers taking buyouts and deciding after 20 years in corporate America to take their savings, thinking: 'let's go and take your mother-in-law's pizza recipe and start the restaurant we've always talked about,' " he says. While the recipe may be gold, would-be restaurateurs need to build their plans around realistic expectations about the start-up costs, industry profit margins and personnel challenges that come with the business.
That's why Chris has revamped the classes he offers at the SBDC. The new approach is like going from the five-course prix fix meal to an a'la carte menu. Along with his signature series, "So, You Want to Open a Restaurant," several new class offerings coming up in April break out the key issues in restaurant management, including menu planning, restaurant marketing and personnel management. There's something for the entrepreneur just thinking about restaurant ownership as well as for the veteran owner who is managing a busy establishment.
"Small restaurant owners are often so busy working in their business, they have little time to work on their business," Chris says. For those who plan to attend any of Chris's affordable and practical restaurant management classes, working on their business will be just that much easier after hearing Chris's expert advice.
Visit Chris's website at www.alacarteconsultinggroup.com.