Q&A with Small Business Owner Alicia Cahill Of Kitchen Chick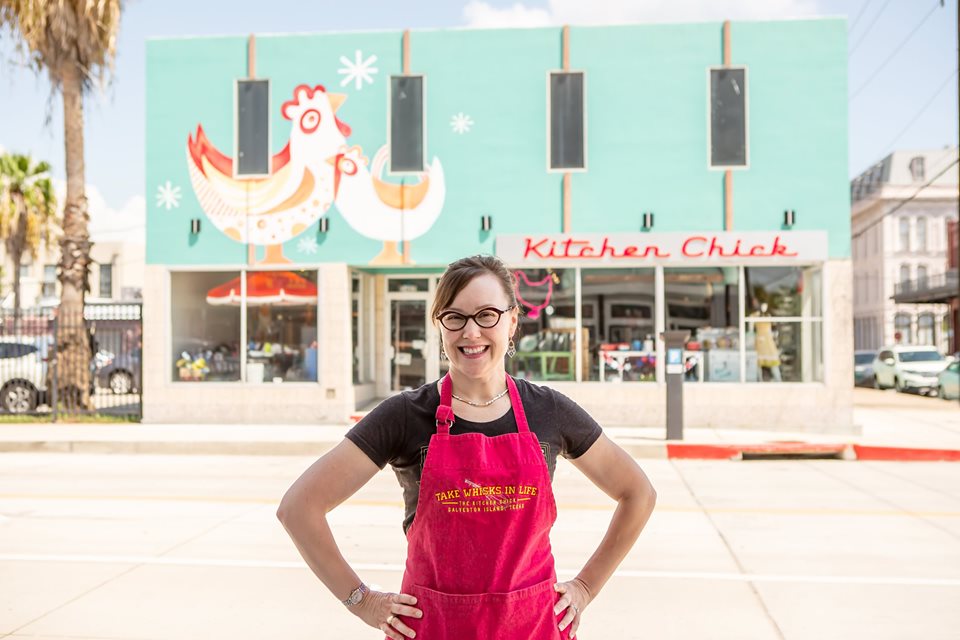 Let's visit Alicia Cahill, owner of Kitchen Chick. Located in Downtown Galveston, the Kitchen Chick is a quirky retail boutique that also offers gourmet-caliber kitchen ware and fun cooking classes for all ages. A charming shopping environment, reminiscent of a 1950s design aesthetic with a modern flair, customers often spend their time exploring interesting gadgets and rare finds.
We had a chance to catch up with Cahill for an informal Q&A session. Read on to learn about her small business journey. ​
Q: Why did you start your business?
A: I love to cook and bake, but living on Galveston island, I was peeved about driving for 30 miles to find quality kitchen goods or rolling the dice and making an online purchase, sight unseen. I also realized there was a gap in the market, and after careful consideration, I decided I might just be the right person to fill it.
Q: What was your vision for Kitchen Chick?
A: I wanted Kitchen Chick to be a place where people can stand in the aisle to swap recipes, soak in some personal attention and learn the magic of cooking from a team of talented local chefs. I wanted my business to be a charming destination in Downtown Galveston. Seven years later my business has wildly exceeded my expectations.
Q: How would you summarize what you do?
A: I work behind the retail counter helping clients, pinch hit teaching cooking classes, reconcile accounts, unpack shipments, clean bathrooms ... everything! The life of a small business owner is anything but static. You do what needs to get done, day in and day out. Most of it sparks joy.
Q: What are some of your proudest accomplishments?
A: I love hearing from my clients; they have the sweetest things to say. Whether it's telling me how much they enjoyed a class or that they really like the atmosphere I've curated in the shop. And knowing that I've been a part of their happiness or have helped them find the perfect gif t means a lot to me. Their feedback also mean that they value my small business and consider it an asset to the community - that's what I'm most proud of.
Q: How has your business evolved over time?
A: Over the last seven years my business and business footprint have both grown. I originally opened in a small 800 square foot space that I leased. And although I had plans to offer cooking classes from the onset, our first class wasn't offered until four months later. My tiny shop lacked a designated classroom kitchen space, but of course that didn't stop me or my instructors from offering delicious, intimate classes. The following year, I doubled the size of my shop and built out a proper classroom. In 2017, I purchased and renovated a 10,000 square foot building in Downtown Galveston. I moved in on Jan. 1, 2018 and had my best year ever.
Q: What are you working on now?
A: Retail is always evolving. Staying current with trends, expanding merchandise and adding lines is the life of retail business owners. I'm always working to keep our famous cooking class program inventive and delicious. And most importantly, I'm always hoping to personally connect with my clients.
Q: If you could give one piece of advice to a new business owner what would it be?
A: Trust your gut. When I've discarded my intuition, I've made bad choices.
Q: How was your experience working with the SBDC?
A: The Galveston County SBDC help steer me away from pitfalls that new business owners often face. Their resources and recommendations helped me feel confident that I could chase my dream. Knowing their professional staff was just an email or call away let me know I wasn't completely on my own.
The Kitchen Chick opened in 2012. To attend a cooking class, browse the Kitchen Chick calendar of upcoming events.
By Amy Reid
<!—- ShareThis BEGIN -—> <!—- ShareThis END -—>