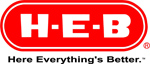 H-E-B is one of the
nation's largest independently owned food retailer
with more than 329 stores and 80,000 employees (Partners). They
buy millions of dollars
of goods and services every year. Many of their vendors are small and minority owned and from the great state of Texas. If you have dreamed about doing business with a company like H-E-B then don't miss this must-attend workshop. You will discover what it takes to become a vendor and stay a vendor.
As an added bonus you will hear about H-E-B's Primo Picks "
Quest for Texas Best
;" an opportunity for food and beverage suppliers to showcase their uniquely Texas products and win cash prizes. The top four products will be selected and winners will be awarded with a cash prize along with the possibility of gaining a coveted spot on H-E-B shelves statewide in 2017.
Presenter:
James Harris, Director, Supplier Diversity, H-E-B
Please Note:
Satisfactory meeting room temperatures are difficult to maintain. Always bring a sweater or jacket to ensure comfort.

No children under the age of 16 are allowed in the workshop.

Only service animals allowed - If you need to bring a service animal with you to a workshop please contact us ahead of time.



Pay on-line and Save $20!

Pay at the door Price: $39.00
On-Line You Save: $20.00
Pay On-Line Price: $19.00