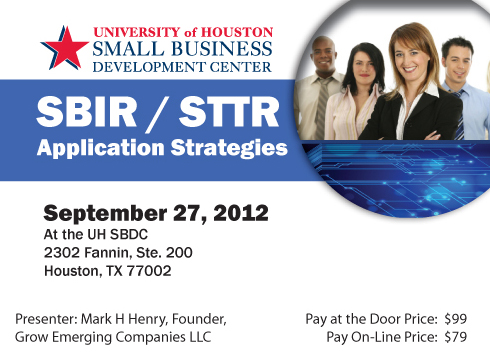 Small Business Innovation Research (SBIR)
&
Small Business Technology Transfer (STTR) Programs
Research and Development Grant Funding Opportunities!
The SBIR and STTR Programs are significant sources of federal research & development funding with no repayment required. The Programs are intended to stimulate technological innovation while providing the government with new and cutting edge technical solutions to challenging problems. These early stage, non-dilutive funding opportunities are available to entrepreneurs, qualified small businesses, and researchers at institutions.
This 1-day (8 AM - 5 PM) workshop will cover program requirements, preparing to write the application, planning and strategy, and producing compelling and competitive Phase I and Phase II proposals.

ABOUT THE WORKSHOP
7:30 am - 8:00 -- Registration and Light Breakfast
8:00 am - 12:00 pm -- Part I: Introduction to the SBIR/STTR Programs - Phase I Proposals
Learn About:
• Program rules and eligibility requirements: Grants vs. contracts, solicitations and topics, opportunity assessments.
• Pre- qualification questions: Is SBIR/STTR right for your firm? Do you have a true innovation with potential impact?
• Importance of getting ready to write: Often 80-90% of the proposal process.
• Producing competitive Phase I and Phase II proposals: How to avoid losing with your proposal.
Noon - 1:00 pm -- Complimentary Lunch (Selection Made During the Registration Process)
1:00 pm - 5:00 pm -- Part 2: Managing Phase I to Get to Phase II
Find Out:
• Phase II rules and basics: Odds of winning, budgets, timelines, and program differences.
• The Starting Point - Day 1 of Phase I: Getting started; technical work vs. business work.
• Phase II Planning and Strategy: Phase I project management; Go/No-Go decisions for Phase II; Selling and protecting your data; Identifying and working with potential Phase III partners and obtaining commitment letters.
• High-level elements of a competitive Phase II proposal: The process and pre-writing tools: key sales themes and sections of competitive proposals; do's and don'ts and reviewer comments.

ABOUT MARK H. HENRY

Mark H. Henry, Founder of Grow Emerging Companies LLC, is a nationally known expert in the $2.5 billion federal Small Business Innovation Research (SBIR) and Small Business Technology Transfer (STTR) programs. Mark has over 30 years of experience in helping innovative small firms across the country win hundreds of seed-level SBIR/STTR government R&D grants and contracts—early-stage, non-dilutive awards totaling some $500 million.
He is an expert at helping technical people sell their technical and business ideas. He and the Grow team provide client support in the planning, coordination, and production/writing/editing of proposals for obtaining grants and contracts that support client R&D efforts and product/service development.
Mark has presented at more than 50 national SBIR/STTR conferences and meetings.
.

| | |
| --- | --- |
| Supporters: | |